Introduction to Adani Group
Incorporated in 1988, Adani Enterprises Limited is a part of the esteemed Adani Group, one of India's leading business houses with an integrated energy and infrastructure platform. The Company has established itself as a leader in multiple segments and has a long track record of successful execution of various large-scale projects.
The Adani Group's ventures include Adani Power, Adani Ports & SEZ, Adani Transmission, Adani Green Energy, and Adani Total Gas, all aimed at making India self-reliant. Their businesses cover mining services, edible oil & foods, water, data center, integrated resource management, agro, solar manufacturing, defence & aerospace, airports, roads, metro & rail.
The Company is dedicated to providing the best quality products and services, contributing to a sustainable environment and giving back to society. As of December 31, 2022, the Adani Group had a market capitalization of ₹18,402 billion (approximately US$222 billion).
About Adani Enterprises Limited FPO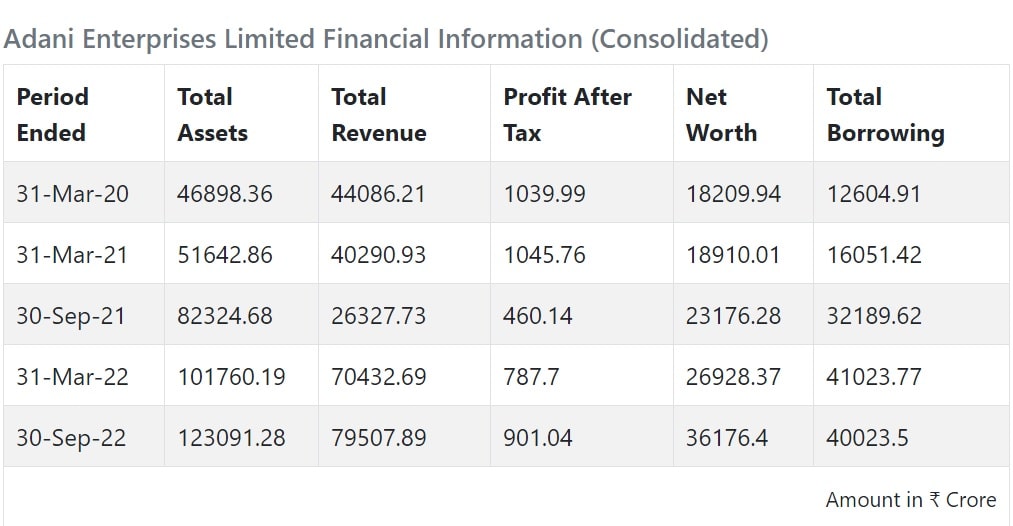 Adani Enterprises, a leading Indian conglomerate, has announced the date for its upcoming follow-on public offering (FPO). The FPO is scheduled to take place on 27th January 2023. The price of the shares being offered in the FPO is ₹3112 to ₹3276 per share.
The FPO is receiving positive reviews from industry experts and analysts, who believe that the company's strong financial performance and growth prospects make it a good investment opportunity. Adani Enterprises has a diversified portfolio of businesses, including infrastructure, agribusiness, and energy.
The FPO details include the company plans to use the proceeds from the FPO to fund its expansion plans and to strengthen its balance sheet. Interested investors can apply for the shares during the FPO period,
Overall, the Adani Enterprises FPO is a great opportunity for investors to participate in the growth of one of India's leading companies. With a strong track record of performance and a clear vision for the future, Adani Enterprises is well-positioned to continue delivering value to its shareholders.
A company's independent committee of directors has recently fixed a new IPO price band.
The new band is set between 3,112 and 3,276 rupees per equity share with a face value of one rupee.
The Offer closes on Tuesday, January 31, 2023, and bidders can make a minimum of four FPO equity shares and further in multiples of four FPO shares.
The committee has demonstrated that the price band set is justified based on quantitative factors and KPIs stated on page 123 of the red herring prospectus compared to the WACA of primary issuances/secondary transactions.
Adani Enterprises FPO Details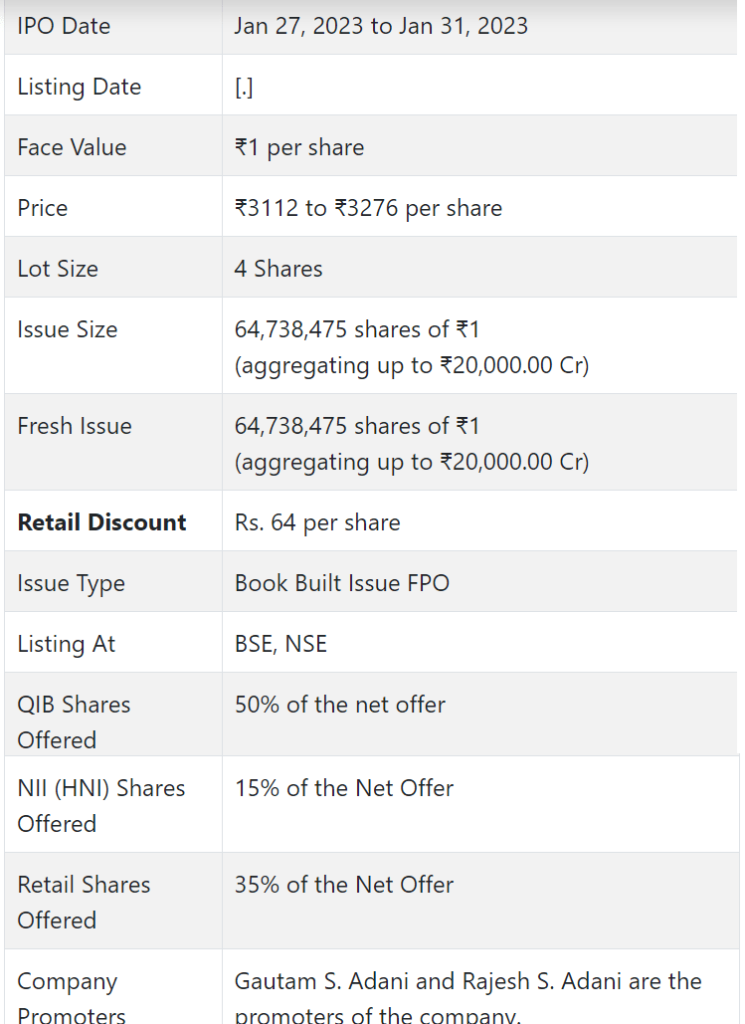 Adani Enterprises Limited ("AEL" or the "Company") is pleased to announce its Further Public Offering ("FPO") to open on Friday, January 27, 2023. The FPO will aggregate up to ₹ 20,000 crores* and comprises partly paid-up equity shares of the face value of ₹ 1 each ("FPO Equity Shares"). The Offer includes a reservation of FPO Equity Shares aggregating up to ₹ 50 crores for subscription by eligible employees not exceeding 5% of the post-offer paid-up equity capital ("Employee Reservation Portion").
Bids can be made for a minimum of 4 FPO Equity Shares and in multiples of 4 FPO Equity Shares after that. The Price Band for the FPO Offer has been fixed at ₹ 3,112 to ₹ 3,276 per FPO Equity Share. A discount of ₹ 64 per FPO Equity Share is being offered to Retail Individual Bidders bidding in the Retail Portion of the Offer.
Adani Enterprises proposes to utilize ₹ 10,869 crore of the net proceeds of the FPO towards funding capital expenditure requirements of some of its subsidiaries about certain projects of the Green Hydrogen Ecosystem, improvement works of certain existing airport facilities, and construction of greenfield expressway. The rest will be utilized for general corporate purposes. The FPO Offer will close on Tuesday, January 31, 2023, at 5.00 pm.
The FPO Equity Shares offered through this Red Herring Prospectus are proposed to be listed on the Stock Exchanges. The Book Running Lead Managers to the Offer are ICICI Securities Limited, Jefferies India Private Limited, SBI Capital Markets Limited, Axis Capital Limited, Bob Capital Markets Limited, IDBI Capital Markets & Securities Limited, JM Financial Limited, IIFL Securities Limited, Monarch Networth Capital Limited and Elara Capital (India) Private Limited.
Don't miss out on your chance to invest in Adani Enterprises Limited's FPO. Hurry and make your bid before the Offer closes on Tuesday, January 31, 2023!
This offering is being made by Regulation 129(1) of the Securities and Exchange Board of India (SEBI) Issue of Capital and Disclosure Requirements (ICDR) Regulations. It is also being done through a book-building process. The Company, in consultation with the book-running lead managers, has allocated not more than 50% of the net offering to Qualified Institutional Buyers (QIBs) (the "QIB Portion"). Of the QIB Portion, the Company has allocated up to 60% to Anchor Investors on a discretionary basis by the SEBI ICDR Regulations (the "Anchor Investor Portion"). At least one-third of the Anchor Investor Portion must be reserved for allocation to domestic mutual funds as long as valid bids are received from them at or above the Anchor Investor Allocation Price.
Suppose there is an under-subscription or non-allocation in the Anchor Investor Portion. In that case, the remaining FPO equity shares will be added to the QIB Portion, less the number of equity shares allotted to the Anchor Investors (the "Net QIB Portion"). 5% of the Net QIB Portion is to be allocated proportionally to mutual funds only, while the rest of the QIB Portion is to be allocated proportionally to all QIB bidders, including mutual funds, subject to valid bids being received at or above the Offer Price.
Not less than 15% of the Net Offer is to be allocated to Non-Institutional Bidders by Regulation 129(1) of the SEBI ICDR Regulations. Of this portion, one-third is reserved for bidders with bids exceeding INR 2, 00,000 up to INR 10, 00,000, while two-thirds is reserved for applicants with bids exceeding INR 10, 00,000. An unsubscribed portion of either sub-category may be allocated to applicants in the other sub-category of Non-Institutional Bidders, provided valid bids are received at or above the Offer Price.
Less than 35% of the Net Offer will be allocated to Retail Individual Bidders (RIBs), subject to valid bids received at or above the Offer Price. All potential bidders (other than Anchor Investors) must use the Application Supported by Blocked Amount (ASBA) process, wherein details of their respective bank accounts (including UPI ID in case of UPI bidders) must be provided to participate in the Offer. Anchor Investors are not permitted to participate in the Anchor Investor Portion through the ASBA process.
The FPO equity shares offered through the RHP are intended to be listed on the Bombay Stock Exchange (BSE) and the National Stock Exchange of India (NSE). All capitalized terms used herein but not defined shall have the same meaning as ascribed to them in the RHP. For further details, please refer to the "Offer Procedure" beginning on page 698 of the RHP.
Company Contact Information
Adani Enterprises Limited

Shantigram, Near Vaishnodevi Circle,
S G Highway,
Ahmedabad-382421
Phone: +91-79-26565555
Email: [email protected]
Website: https://www.adanienterprises.com/
Adani Enterprises FPO Registrar
Phone: +91-22-4918 6270
Email: [email protected]
Website: https://linkintime.co.in/